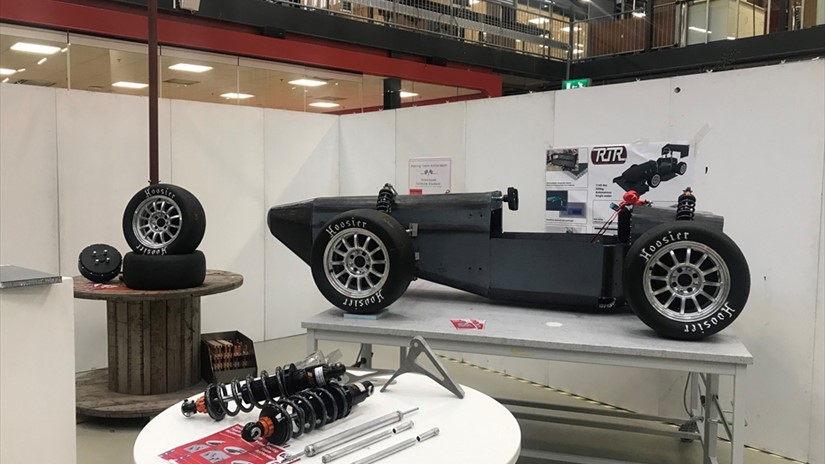 Question
Develop an open wheeled single seater which will compete in the Formula Student competition.
Approach
In the past 20 weeks, Racing Team Rotterdam has been working on the development and realisation of the RU22. This open-wheeled single seater will compete in the Formula Student competition.
I developed, tested, realised and validated the RU22 monocoque. The monocoque is made of Thermoplastic Composite inner and outer layers, which are formed into a sandwich panel by adding an aluminium honeycomb. After carrying out many tests, the appropriate honeycomb, surface treatment and adhesive were selected.
After heating the thermoplastic composite material to a specific temperature, it can be bent and maintains this shape when applying the correct cooling method. Bo Herrewijnen conducted research into this processing method, which ultimately made it possible to actually realise the monocoque.
By using this material in combination with the aluminium honeycomb including the optimal adhesive with surface treatment, the world's first thermoplastic composite formula student monocoque has been created. This part weighs less than 24 kg and has a (validated) torsional stiffness of almost 1100 Nm/deg (!).
Result
Besides the responsibility of the monocoque, I also developed the seat, firewall and Nose Cone. To realise the lightest possible vehicle, the seat is again made of thermoplastic composite. It is integrated with the firewall by using another aluminium honeycomb. The firewall is then made of aramid fabric in combination with a fire retardant resin. This resin is produced by adding the ideal amount of aluminium hydroxide, which ensures the highest possible fire retardancy (UL94-V0 classification has been approved!).
Due to the complex shape, it was not possible to make the Nose Cone from the Thermoplastic Composite material. To continue the lightweight construction, a carbon fibre prepreg was used. After the preparation of the plug, the mould was made from which the physical product ultimately emerged.
This project took place during the minor Future Automotive Technology at Rotterdam University of Applied Sciences. Here, I have gained a lot of interest and knowledge in working with composites and engineering to the limit.
I would like to thank all the team members and people involved who participated in any way in the creation of the RU22!
Contributer
Tommy Rasch – Student Automotive