You can make the difference. How? Rotterdam University of Applied Sciences organizes a series of 3 hackathons, in which we look for solutions to a waste stream challenge of a food entrepreneur.
In the second edition on June 1, we will work with Van Oers United that is struggling with a waste stream of Brussels sprouts and scallions.
Hackathon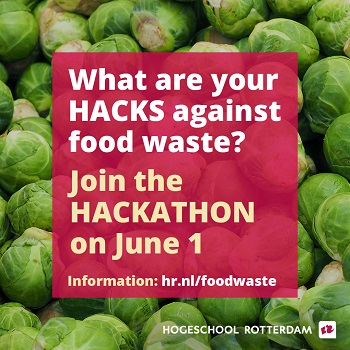 In a hackathon you work intensively on a problem for a day, to present a solution at the end of the day. Each hackathon focuses on an entrepreneur from the food chain, each time from a different phase, such as a producer, a catering entrepreneur or retailer. The entrepreneur brings in a concrete question and you come up with solutions with a team of students from different study programs. This creates unexpected results. At the end of the day, you and your team pitch your solution(s) or direction(s) and receive feedback. The expert jury will decide which solution is the most creative yet practical. The winning team receives 250 euros!
Do you think that food waste is a problem for all of us and do you like to think along about solutions for a relevant and challenging question from an entrepreneur? Are you creative and open minded and would you like to see quick results that are also well appreciated? Sign up for the hackathon!
When, where and how
The second hackathon will take place in Blue City on June 1, 2022. The day will run from 9 a.m. to 5 p.m. Signing up means being available the whole day. You don't have to prepare anything. During the day you will receive guidance and feedback from Rotterdam University of Applied Sciences teachers and from the entrepreneur..
Sign up
Sign up for the hackathon and you will receive the definitive programme as soon as it is ready. Not available on June 1 but still interested in a hackathon about food waste? Leave your e-mailadress and we will inform you the moment another hackthon is planned.